Areas of Experience:

* Civil Engineers, Land Survey
* Soils Engineers
* HVAC, Electrical & Plumbing Engineers
* Architects
*Construction, general and sub-contractors
* Custom Manufacturer
* Advertising
* Party Rental
* Event Planning
* Restaurant
* Catalog, Online Store
* Non Profit
* Direct Marketing, Printing
* Property Management
*Professional Services - sole proprietors
*Real Estate
​*Retail


---
Whatever your needs - we are here to help!
Do you just need to get caught up? Need your books cleaned up and categorized better? Need forms and reports customized to how you want them? Need someone to fill in while an employee is out on vacation or leave? Just starting a business and need books set up and show you how to use it? Need someone to keep your bills paid on time but don't want to hire an employee?

If you need Weekly, Bi-Monthly, Monthly, Quarterly or Yearly help - we can cater to your needs and budget. Packages are available. Don't spend another minute worrying about your bills being paid on time or customers not paying their invoices. Give us a call and we will take care of it all!
Member of: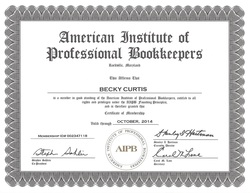 National Bookkeepers Association
American Institute of Professional Bookkeepers
National Association of Professional Women
California Notary Public since 1999
---